Irish National IPv6 Centre Launch Event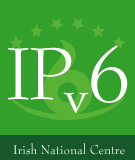 Waterford Institute of Technology hosted the launch of the Irish National IPv6 Centre on Friday 30th September 2005.
This centre is a consortium led by the Telecommunications Software & Systems Group (TSSG) in Waterford Institute of Technology (WIT), with partners in the Hamilton Institute (NUI Maynooth), HEAnet (Ireland's national research network) and BT Ireland (with their links to the BT Exact research laboraties in Ipswich).
The centre was designated by the Irish DCMNR (Department of the Communications, the Marine, and Natural Resources) and opened by Martin Cullen TD, Minister of Transport. The Director of WIT, Prof. Kieran Byrne, and the Chair of WIT's Governing Body, Redmond O'Donoghue welcomed the Minister. The Head of Research in WIT, Dr. Willie Donnelly gave a short address on the importance of the TSSG within the context of WIT's research strategy. As part of the programme of talks for the launch event Mario Campolargo, Head of Unit DG-INFSO F3 Research Infrastructures in the European Commission, gave a presentation via video-link from Brussels.
Each of the partners gave a presentation: Mícheál Ó Foghlú (TSSG, WIT), Dr. David Malone (Hamilton Institute, NUI Maynooth), Mike Norris and David Wilson (HEAnet) and William McAuliffe (BT Ireland). In addition short presentations were given by a number of supporters of the initiative: Dr. Mark Keane (Science Foundation Ireland, who have funded the TSSG and the Hamilton Institute in ways that support the centre), Nick Hilliard (INEX) and Latif Ladid (President of the global IPv6 Forum).
The afternoon included demonstrations of active research projects involving IPv6 in which the partners in the Irish National IPv6 Centre are engaged including Daidalos, and SEINIT.
The Irish National IPv6 Centre is committed to continuing to research infrastructural and service-related issues linked to the use of the IPv6 protcol as the key element of the next generation Internet. In this, the centre will support the on-going mission of the Irish National IPv6 Task Force to encourage and lobby for the deployment of IPv6 in Ireland in the public and private sectors.