WIT Research & Innovation Building
Work sweet work
Originally uploaded by Paul Watson.
The TSSG have moved into our new building in Carriganore. A fellow work colleague took this photo and posted it on Flickr so I can cross post easily on my blog.
Perhaps the best thing about the building is the site, the views of the River Suir are stunning. I'll post some photos of my own when I get the chance.
Posted by mofoghlu at
12:43 PM
|
Comments (0)
Irish Broadband: An Embarassment
Having just come back from eChallenges 2005 (Slovenia) the most embarassing thing for me as an Irish delegate is how far down the table of broadband penetration Ireland lies. It really does show us to be the laggards of Europe and not the leaders.
"This time the survey comes courtesy of ECTA, the European association of alternative telecom service providers, which positioned Ireland 14th out of the 15 European Union Member States. Embarrassingly, the report shows that Ireland has been overtaken in terms of broadband penetration by some of the new EU member states, like Hungary, Slovenia and Lithuania."
From: ElectricNews.net:News:Ireland gets poor marks for broadband
This poor performance doesn't surprise me as I am more than willing to pay for ADSL but it still is not available in my town in rural Co. Waterford.
Posted by mofoghlu at
5:53 AM
|
Comments (0)
eChallenges 2005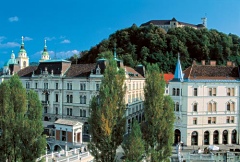 I am here in Ljubljana in Slovenia for the annual eChallenges 2005 conference. This year there are nearly 600 delegates from 46 countries, a really impressive broadening of the impact of the conference that looks at a range of issues from eBusiness, through eGovernment to Broadband and Mobile technologies.
There is a healthy delegation from the TSSG in WIT:



myself, on the IPC and chairing a few sessions and presenting a paper on IPv6 and security inspired by our work on the Irish SFI funded Foundations of Autonomics programme;


Brendan Jennings presenting a paper on charging for dynamically composed services;


John Ronan presenting a paper on the EU IST FP6 SEINIT project: security for heterogeneous mobile network services;


Robert Mullins presenting on the EU IST FP6 Daidalos project: security framework for mobile services;


Jim Clarke presenting on the EU IST FP6 SecurIST project: the Security Task Force creating an agenda for security and dependability research in FP7;


Sven van der Meer presenting a paper on the Irish Enterprise Ireland funded IMPRUVE project: instant messaging as a platform for the realisation of ubiquitous computing (as Sven will not be here I will present this paper).


Posted by mofoghlu at
11:15 PM
|
Comments (0)