eChallenges 2005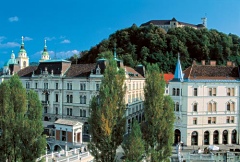 I am here in Ljubljana in Slovenia for the annual eChallenges 2005 conference. This year there are nearly 600 delegates from 46 countries, a really impressive broadening of the impact of the conference that looks at a range of issues from eBusiness, through eGovernment to Broadband and Mobile technologies.
There is a healthy delegation from the TSSG in WIT:



myself, on the IPC and chairing a few sessions and presenting a paper on IPv6 and security inspired by our work on the Irish SFI funded Foundations of Autonomics programme;


Brendan Jennings presenting a paper on charging for dynamically composed services;


John Ronan presenting a paper on the EU IST FP6 SEINIT project: security for heterogeneous mobile network services;


Robert Mullins presenting on the EU IST FP6 Daidalos project: security framework for mobile services;


Jim Clarke presenting on the EU IST FP6 SecurIST project: the Security Task Force creating an agenda for security and dependability research in FP7;


Sven van der Meer presenting a paper on the Irish Enterprise Ireland funded IMPRUVE project: instant messaging as a platform for the realisation of ubiquitous computing (as Sven will not be here I will present this paper).


Posted by mofoghlu at October 18, 2005 11:15 PM