SatNav causes chaos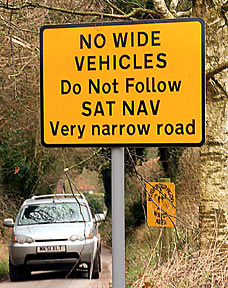 An article from The Mail On Sunday quoted a resident of Exton (a small town in England), Brian Thorpe-Tracey as saying:

About two years ago we noticed a real increase in drivers using the lane. Vehicles are getting stuck and having to reverse back up, damaging the wall and fence. There's even a piece of metal embedded 12ft up in a tree which looks like it's come off a lorry. When I've asked drivers why they are using the lane they say they are just following satnav.
Thanks to Brady Forest of O'Reilly Radar for the link. This highlights one of the unforeseen problems with new technologies. Brady suggests in his post that allowing user generated updates to be integrated into the data used by satnav systems could alleviate the problem.
Posted by mofoghlu at February 23, 2007 2:27 PM | TrackBack