eChallenges 2008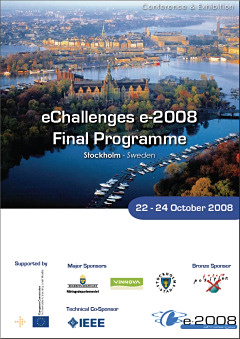 I am here in Stockholm for the first day of the eChallenges 2008 conference tomorrow, Wednesday 22nd October 2008.
I have been involved in this conference series since Venice in 2001 when I presented a paper on the work of SEISS in the south east of Ireland, creating a forum for public and private sector interests to come together under an Information Society banner. The SEISS work led to a successful bid for regional broadband investment, the SERPENT project, that saw fibre installed in the regional towns and cities.
Since then I became involved in the Technical Programme Committee and I have watched as this conference has matured and grown, where it now regularly has over 600 delegates. The core driver for the conference is the EU research programme, but the conference is much more than that.
I like the eclectic mix that this involves. You get public sector folks, working on eGovernment projects, who have one spin on things. You get lots of European industrial/commercial folks with another spin. And you also get academics who are always spinning. There are enough important decision makers from all of these areas, to make it worth coming; and enough technical people as well so that some of what is said is grounded in what is actually possible. So all in all a very enjoyable event.
Thanks to Miriam and Paul Cunningham, who've steered the conference since 2003, for keeping such a healthy balance going throughout this period.
Posted by mofoghlu at October 21, 2008 9:51 PM | TrackBack