Sailing from Byzantium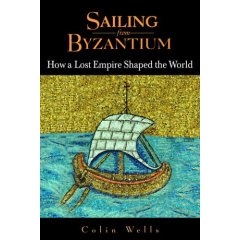 [Composed 1st August 2009, posted 9th August 2009 - connectivity issues when traveling.]
On summer holidays finally got around to reading Colin Wells' book Sailing from Byzantium. It is a very interesting look at Byzantium's contribution to preserving Greek learning for three cultural groups:
The Latin west, primarily via the Italian Renaissance;
The Islamic cultures of the Middle East, North Africa and Spain primarily via the Translation Movement ;
The Slavic peoples of Bulgaria, Russia and elsewhere primarily via the spreading of the Orthodox church.
This book isn't a good overview of Byzantine history itself, in fact it may be best to have read some of this first before reading this book. For the history I recommend the three volume history by John Julius Norwich (1, 2, 3), and the fantastic dramatisation of the fall of the empire in 1453 by Roger Crowley Constantinople, The Last Great Siege 1453.
Posted by mofoghlu at August 1, 2009 11:55 PM | TrackBack