Science Spin Interview on IPv6
Sean Duke interviewed with me recently about IPv6 and the Future Internet. This interview was broadcast on Science Spin on Dublin's Spin FM (103.2) on the 17th June, 2010. Sean was kind enough to give longer than the traditional two minute "sound bite", instead this is a ten minute discussion that allows time for a bit more depth.
You can listen to podcast of this interview, after the introductions mine is the first segment (time 00:50 to 11:10).
Posted by mofoghlu at
3:28 PM
|
Comments (0)
|
TrackBack
TSSG wins first place in Ericsson Mobile Application Awards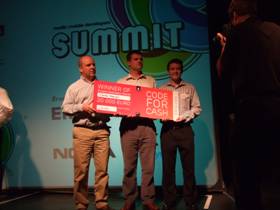 I am very happy to announce that a team of programmers from the TSSG have won first place in the Ericsson Mobile Application Awards. The global student competition generated over 700 registered users, 120 registered teams from 28 countries worldwide and the involvement of 1000 end-users globally. The jury selected the winners yesterday at the Nordic Mobile Developer Summit in Stockholm.
Pictured above is Robert Mullins and the two part-time students Kieran Ryan and Mark Williamson who are both members of the TSSG and students on the TSSG-sponsored MSc Communications Software in Waterford Institute of Technology.
The winning entry has an associated YouTube video and was based on the development of a "Caller Profiler application".
This success demonstrates the capability within the TSSG to translate from a high level research interest in telecommunications networks and services, through to real software development that can have an impact on industry, with a link back to WIT's teaching curriculum, in particular with specialised targeted MSc (taught) course offerings designed to enable professional development of specialist software skills.
Robert Mullins led the TSSG's engagement in Enterprise Ireland funded ILRP IMS-ARCS project that built enablers for next generation IMS services. The development work for the competition was enabled by Enterprise Ireland funding linked to one of the IMS-ARCS industrial members Vennetics as partner.
We are grateful to Ericsson for the opportunity to take part in this competition. Ericsson, both in Ireland and in Sweden, work closely with the TSSG in supporting our Next Generation Network TSSG Centre (funded by the TSSG, Enterprise Ireland, and Science Foundation Ireland), and have worked with us on many leading edge research projects.
Well done to the winning team!
UPDATE 2010-06-14 - Video Interview
A video interview with the winning three teams, the TSSG team as overall winners are third in the sequence starting at timestamp 2:20:
UPDATE 2010-06-17 - TSSG Press Release
The official press release on the Applications Award win was released today: TSSG Press Release
Posted by mofoghlu at
4:28 PM
|
Comments (0)
|
TrackBack