Co. Wexford, Ireland (from the air)
Co. Wexford, Ireland (from the air)
Originally uploaded by mofoghlu.
I took this photo from the window of the Aer Arran flight from Waterford to Luton last month. It's a shot of Kilmore Quay and the Greater Saltee island from the air. Unfortunately I only had my phone to hand (Sony Ericsson P910i) so it's not a high resolution image. As I'd posted photos of the Saltees from various Kayaking trips (c.f.
Flickr Set
, and
Blog posts
) I this would make an interesting addition.
Posted by mofoghlu at
1:47 PM
|
Comments (0)
|
TrackBack
Sea Kayaks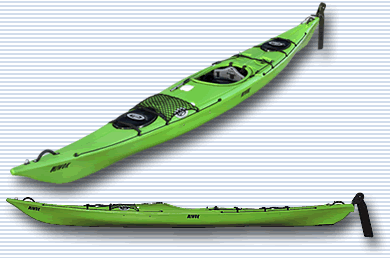 Myself and Eamonn de Leastar have recently purchased sea kyaks (DAG Miwok). We plan to do sea kayaking around the south east of Ireland. So far we've been around Lough Hyne (Co. Cork) and off Garris Head (Co. Waterford).
We tested the Kayaks and bought them from Jim Kennedy of Atlantic Sea Kayaking who used to be based in Union Hall in west Cork, and is now based nearby. Jim is an experienced Kayaker and trainer and organises trips and traing for for all types of Kayakers.
Whilst searching for sites around Ireland relevant to sea kayaking I found the Irish Sea Kayaking Association. In a recent posting to one their discussion groups, readers were directed to this gear list (i.e. a checklist of what to take on different types of trip). I also found that you can now access the Irish Met ノireann sea area forecast on-line (easier than trying to catch it on the radio at certain times).
So expect some more Kayak related postings in the Personal track of this Blog.